EnvisioKnit User's Manual
Download a print-friendly version (PDF).
Table of Contents
The Chart Editor
Settings
Tools
Default Design Settings
EnvisioKnit allows you to adjust your default design settings so that new designs you create will be automatically customized for you. You can set your default pattern settings, chart settings, yarn, borders, and stitches
Default Pattern Settings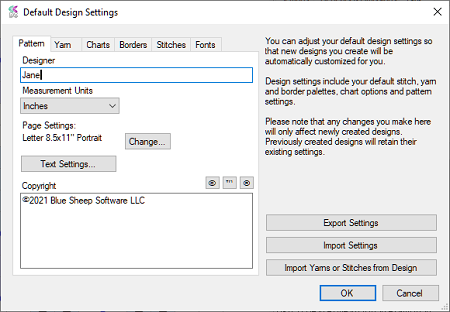 The Pattern Settings include the default designer name, measurement units (inches or centimeters), default page settings and copyright notice. Please note that if you prefer to use centimeters rather than inches in your designs, this is where you should make that adjustment
Default Chart Settings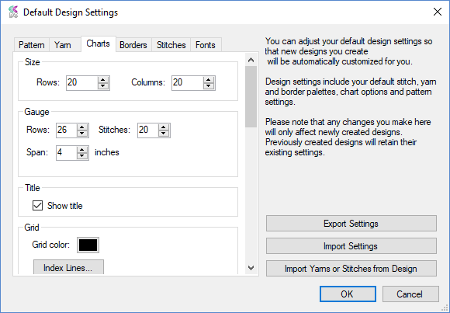 The Chart Settings include the size, in rows and columns, and gauge for your charts. You can also set defaults for most of the options in the chart preview, such as whether the chart is in the round, the chart numbering style, legend options, grid color and whether to display the chart title.
Default Yarn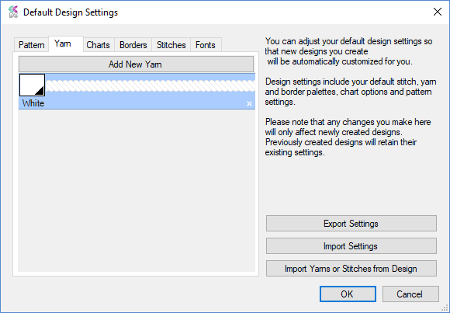 Customize which yarns you start with. Instead of the default white yarn, you can start every design with, for example, a red yarn and a blue yarn, or whatever color(s) you want.
Default Border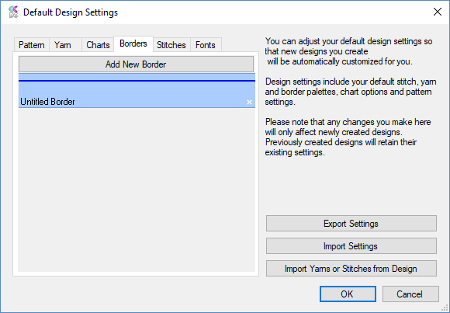 Set your default borders. For instance, you could always start with a wide green border instead of a thin blue one.
Default Stitches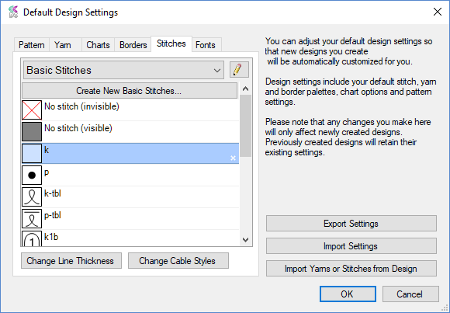 Setting your default stitch palette is particularly useful, as this allows you to save the entire stitch palette, with all your customizations and custom stitches, just the way you want it.
Default Fonts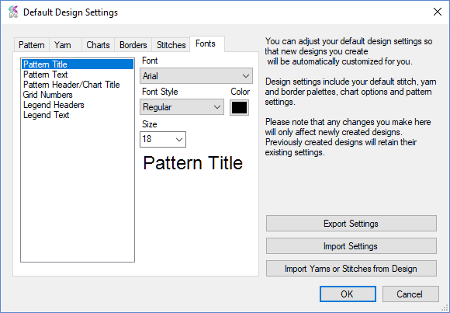 Select your default fonts. Choose the style, size and color of the fonts used in your patterns. The default fonts are set in the same way as the Pattern Font Settings