News and Announcements
June 7, 2022
1.5.1 Release Notes
We are pleased to announce the release of EnvisioKnit 1.5.1!
Release 1.5.1 Summary
New Features:
Changes:
For your convenience, EnvisioKnit will (optionally) open pattern documents after exporting.
When exporting a pattern to Word, designers will have the choice to generate a Word document with charts in SVG (vector) or PNG (raster) image formats. A default choice can be selected in the EnvisioKnit Preferences
Bug Fixes - Windows and Mac:
An issue that occurred when more setup rows than chart rows were set has been fixed.
A condition in which extra lines were sometimes drawn in exported PDFs has been fixed.
Bug Fixes - Windows only:
An issue was fixed in the new chart creation window to update the chart size interactively when the gauge setting is changed.
An issue was fixed in the Picture Chart tool to update the chart gauge interactively when the gauge setting is changed.
Bug Fixes - Mac only:
Fixed missing "Show Title" checkbox in Chart Preview.
Fixed an error which occurred with international characters in the pathname of a design file.
Fixed bug in which Mac version crashed loading charts that had color aliases enabled and instructions disabled.
Fixed an issue that occurred when charts were checked in the Pattern editor and not all charts were visible in the list.
Fixed error that occurred if a stitch was dragged to the yarn palette.
Fixed issue that resulted in an error: "Encoding 437 data could not be found." when loading project files on some systems.
Fixed error which occurred when clicking below the pattern fonts list in the font settings.
May 30, 2021
1.5.0 Release Notes
EnvisioKnit 1.5.0 has been released!
Release 1.5.0 Summary
New Features:
Changes:
The "Designer" text setting in the pattern has been changed to the "Subtitle" setting. Initially, the subtitle will be "by " and the designer's name (so the text will be unchanged for existing files). This way the full line can be customized or omitted.
The order by palette option for the legend now correctly matches the order that stitches appear in the stitch palette, and accounts for any palette reordering the designer has done. By customizing the stitch palette order, the designer can completely control the order of stitches in the legend.
Clicking the delete button on a Border that is currently in use will prompt to automatically delete all usages of the border, rather than asking the user to delete them first manually.
Bug Fixes:
Number of stitches made by CDI stitch has been corrected.
Fixed stitch count for short rows. Stitches held from previous rows are now included when totalling the number of stitches that should be on the needle after the short row is worked.
Default Settings now prevents all yarns from being deleted, which caused an issue when creating new designs. All designs must have at least one yarn.
Fixed issue in the Chart from Written tool in which a missing space after a bracket or a missing period after a repeat caused a parsing error.
Inconsistent legend ordering has been fixed.
Fixed a bug in which replacing a yarn used by multicell stitches caused the stitches to be corrupted.
Stitches contained in omitted chart areas will now also be omitted from the stitch legend.
Fixed issue in which knit and purl stitches could become swapped when particular stitches had customized wrong-side instructions.
Fixed issue in which setting the chart to be worked in the round in the chart preview instruction settings could be inadvertently unset.
Rows that are fully either blank or omitted in the chart are now completely omitted from the instructions. Previously they included the row label, but with blank instruction text.
Fixed issue in which using a European variant of an English Regional Format Windows setting (e.g. English (Germany) or English (Netherlands)) could cause an error when saving files.
May 3, 2018
1.4.1 Release Notes
I am happy to announce the release of EnvisioKnit 1.4.1!
Release 1.4.1 Summary
New Features:
Stitch and Yarn replacement. This feature will come in handy if you have done a bit of charting and change your mind about a particular yarn or stitch. With the Replace feature you can instantly swap one for another. The Replace function can be found in the menu that appears when you right-click on your chart. You can replace stitches and/or yarns within an entire chart, or just within a selected area. See the manual for more information about what the Replace Feature does and how to use it.
Chart masks. Then enabled, masked areas will be preserved when drawn or pasted over. If you would like to draw on your chart without affecting wrong-side or right-side rows, or without drawing over an established no-stitch edge, you can now do so with the Chart Mask. See the manual to learn how to enable the chart mask and its options.
Omissions. You can now mark areas of your chart to be omitted from the automatically generated written instructions. The instruction generator will simply skip over them. This can be used for many purposes, but generally it is to show things on the chart that aren't meant to be worked literally. See the manual for more information about this.
Zoom to Height and Zoom to Width tools. You will find these new zoom tools in the toolbar of the Chart Editor. Clicking the Zoom to Height button will automatically adjust the chart zoom level so that the chart fits vertically within the editor window. Likewise, clicking Zoom to Width will fit the chart horizontally. The new zoom tools are listed in the User's Manual.
You can now delete a yarn that is currently in use from your yarn palette. You will be prompted for a substitute yarn to use instead. The substitute will automatically replace all instances of the deleted yarn in all the charts in your design.
Chart Menu Ordering. The order in which charts appear in the Charts drop-down menu can now be customized. This can be done in the Chart Editor by dragging and dropping the Charts listed in Chart Drawing Mode. The drop-down menu will automatically reflect the new ordering and will be preserved when reloading the file. This feature is mostly for the convenience designers who work with a lot of charts in one design and want to organize them. Please note that this feature is not to be confused with Chart ordering in the Pattern document, which has been available for a while in previous versions, and is independent of the order of the Charts in the Charts Menu.
Bug Fixes:
Fixed a bug in which 1.4.0 loaded dark yarns from previous version files with black symbol colors. Pre-1.4.0 files are now loaded with default symbol colors set to the contrast color of the yarn. Contrasting symbol color was an automatic feature prior to 1.4.0.
September 2, 2017
1.4.0 Release Notes
We are pleased to announce a new update of EnvisioKnit! The release includes several new features based on suggestions we have received from you.
Release 1.4.0 Summary
New Features:
EnvisioKnit generated Open Office documents now have SVG (vector graphics) charts automatically. This guarantees perfect quality and no pixelation or fuzziness in the pattern at any size or zoom level. You can make formatting or other edits in Open Office and from there export to PDF while retaining the benefit of beautiful vectorized charts.
The chart grid and legend are now separate images in Word and Open Office documents. It is now very easy to move them around or adjust their size in your exported pattern document. In Open Office the legend images are SVGs, like the charts.
Parts of a chart can be repeated within the full chart. This is useful for motifs that are worked multiple times between sides of the chart that are only worked once. The motif can be marked as a repeated section. The generated written instructions will indicate the repeat, even though the section is only shown once on the chart. (See the manual)
Designer stitch palettes are supported. Designer stitch palettes can contain any stitch from any of the other palettes, including custom stitches. Designer palettes are useful for creating sets of stitches that are commonly used together in a particular type of stitch pattern. In this release, two designer stitch palettes are added to the default stitch palette: Aran and Lace. Aran contains the basic knit and purl stitches, shaping stitches, and a selection of cables. Lace contains basic stitches, yarn-over and a set of increases and decreases. Designer palettes may be renamed or removed from the palette list. The built-in palettes (Basic Stitches, Decreases, Increases, etc.) are fixed, but may be reordered. (See the Manual)
A used stitches palette is automatically generated and contains all the stitches you have used in the design you are working on. It is automatically updated as you work. It is intended as a convenient palette for you to work from once you have established your design. (See the manual)
The Chart Checker is a new tool for verifying that a knitting chart is workable. Any rows on which the number of stitches worked is not equal to the number of stitches created on the previous row are identified as potential chart errors. (See the Manual)
Designers can include chart notes with individual charts. These are text notes that are specific to the chart or supplementary to its written instructions. The placement of the chart notes is configurable -- the options are: before the chart title, after the chart title, before the written instructions or after the written instructions. (See the Manual)
Charts can include unnumbered set-up rows. These are rows prior to row 1 that are shown on the chart but not numbered. (See the Manual)
The symbol line thickness of any stitch can be adjusted. The thickness is relative to the size of the cell in the chart and the options are: Extra Fine, Fine, Normal, Thick, Extra Thick, 2x Thick, and 3x Thick. Normal is the default for all symbols. (See the Manual)
Stitch symbol color for a given yarn can be customized. The default symbol color is selected automatically so that it is black if the yarn color is light, and white if the yarn color is dark. It is possible to override the default and select any color as the symbol color for a particular yarn. (See the Manual)
The default settings can be saved to and loaded from a settings file. When a new project is created the default settings are used as the template for how it is initially set up. It can be useful to have different settings files for different types of patterns, or to share with others. To allow this, the settings can be exported to or imported from a file. The EnvisioKnit settings files end in the extension ".eks". (See the Manual)
Individual yarns and stitches can be imported into your default settings from existing project files. (See the Manual)
Custom stitches can now have settings for how many stitches they make and take, which affects the stitch count for rows that use them. The chart checker uses these settings to check for errors in the pattern. It is also possible to create custom stitches that are not counted in the stitch counts (make 0 stitches and take 0 stitches), which can be useful for annotations. (See the Manual)
Column numbers have additional options. The interval between numbers and the starting number can now be customized. (See the Manual)
Row Striping is now optional to indicate wrong side rows. The color and opacity of the stripes can be customized. (See the Manual)
International Page Sizes are now supported. Exported chart and pattern documents support the A4 international ISO page size as well as several other ISO 216 standard sizes (A3, A4, A5, B3, B4, B5). (See the Manual)
You can now export the written text content of a chart or pattern to a text (.txt) document. This feature can be helpful if you are using another program for your final pattern layout. Text export from a pattern document includes the pattern title, summary, chart titles and chart instructions, and stitch glossary contents. (See the Manual)
A multi-select option is now available when importing yarns or stitches from another file, or when adding stitches to a designer palette.
Changes
The Microsoft .NET Framework 4.0 is required for this version (previous versions required .NET 2.0). Most systems will have it already, but the installer will check for it and install it if it is not found.
Windows XP users will need to have Service Pack 3 to use this version of EnvisioKnit. FYI, Microsoft is officially no longer supporting Windows XP and it may be difficult to obtain the Service Pack 3 installer. Few people are still using XP and most have upgraded to Service Pack 3, so we hope this change doesn't affect anyone. However, the installer will check to make sure that you have Service Pack 3 if you are running XP before it proceeds to install.
The Chart Preview sidebar options have been organized into tabs: Grid, Legend, Instructions and Notes. This was necessary to provide room for more options.
The yarns listed in the Yarn Palette now have a small colored triangle in the lower right corner of their color box. This is to indicate the symbol color for that yarn.
Bug Fixes
There are numerous bug-fixes in this release. The following are some of the major ones:
Scrolling with mousewheels in the pattern and chart preview windows has been fixed.
An error when saving a design file to a folder that has been removed or renamed has been fixed.
Bound off stitches are no longer included in stitch counts, since they are removed from the needles and should not be counted.
Column numbers over 100 are now properly sized when there are fewer than 100 total columns (when starting column is greater than 1)
An error when the color of a yarn created by the Picture To Chart tool is subsequently changed has been fixed.
An issue with the numbering of row repeats in the generated instructions when the skip-every-other row option was enabled has been fixed.
The in-the-round and right-side first row settings were not being saved in the default settings file and this has been fixed.
An error that occurred when removing a chart while scrolled to the last page of the pattern preview has been fixed.
An issue in which the program window stayed in the background when an existing file was opened from the start screen has been fixed.
May 3, 2013
Come visit us at the 2013 Maryland Sheep and Wool Festival! The Festival is at the Howard County Fairgrounds in West Friendship, Maryland, May 4 & 5, 9am-6pm on Saturday and 9am-5pm on Sunday.
We have a couple computers set up to show off EnvisioKnit and are here to meet you and answer your questions about the software. Our booth is in the Main Exhibition Hall (the big building, spot A18-A).
We'd love to meet you, so please drop by and say hello!
February 3, 2013
1.3.1 Release Notes
This is a bug-fix release for an issue that was found in 1.3.0.
Release 1.3.1 Summary
Bug Fix:
Fixed page settings issue affecting users with language settings that use a comma instead of a period for the decimal point character. This bug caused exported and preview page widths to be very large.
February 2, 2013
1.3.0 Release Notes
We are excited to announce that a major new update of EnvisioKnit has been released! Several new features have been added in EnvisioKnit 1.3.0, as well as several improvements and fixes.
Release 1.3.0 Summary
New Features:
The written stitch instruction generation has been vastly improved. Specifically, repeat recognition has been highly tuned to produce optimally concise, knitter-friendly instructions.
The generated written stitch instructions now support showing color changes. Yarns can be explicitly named, or simplified aliases can be used (See the Manual).
EnvisioKnit has a cool new tool to create charts from pictures. You can find the new Picture Chart tool under the Tools menu. Please check out the documentation in the User's Manual to see how it works.
EnvisioKnit can now create charts from written stitch instructions. The Chart from Instructions tool can be found in the Tools menu, and documentation for it can be found here in the User's Manual.
EnvisioKnit's Pattern Editor now allows you to include photos in your pattern document. This means you no longer have to export to Word or Open Office to add photos -- you can do it directly in EnvisioKnit (see the manual).
Exported PDF files can now be password protected. Additionally, a tool has been added that can password-protect existing PDF files (even those created by other software). (See the Manual)
An option for indicating that a chart should be repeated has been added. The written instructions are automatically generated to reflect the repeat. (See the Manual)
EnvisioKnit can now print your pattern or chart directly from the program, so you can get an immediate hardcopy of your work. Please note that printing has been disabled in the demo version. (See the Manual)
Pattern and chart documents now use Page Settings. In addition to letter (8.5x11"), legal (8.5x14") and ledger (8.5x17") page sizes are supported. Page settings can be set to portrait or landscape orientation. (See the Manual)
Written stitch instructions can now include stitch counts at the end of each row instruction. Stitch counts are generated automatically along with the instructions. (See the Manual)
EnvisioKnit now supports an option for the orientation of chart column numbers. Column number text can be oriented vertically or horizontally. This option is included both in the Chart Preview and in the Default Settings, so a designer can set their preference for all new designs. (See the Manual)
An option has been added to bold the row number label in written stitch instructions. It has been enabled by default for new charts. (See the Manual)
A grayscale mode has been added to the chart editor. This feature is useful in colorwork charts to view the value and contrast of the pattern. (See the Manual)
The stitch symbol editor now has a grid size option which allows you to use a finer grid size. A finer grid will give you more control over shape size and placement, while a larger grid is usually easier to work with.
Changes
When drawing border lines, the escape key can be used to end the line, in addition to clicking the right mouse button.
Bug Fixes
Border text can be double clicked to edit existing text. This was not working in the previous version. (See the Manual)
The previews for the Pattern Editor and Chart Preview have been optimized to use much less memory. Designers using large numbers of charts per design are much less likely to have memory issues.
Fixed bug in the Stitch Symbol Editor in which selecting a shape from a palette while the palette was scrolled caused the selection to jump to another shape.
After deleting a chart, the program no longer automatically switches to the pattern editor. If the chart deleted is the current chart, it switches to the last opened chart.
July 27, 2012
1.2.5 Release Notes
This is primarily a bugfix release to resolve a few issues (yes we skipped 1.2.4, we used that version number for a non-public test release).
Minor New Feature:
Recent palette improvements: Increased the number of stitches that the Recent palette can hold to 100. Stitches can now be optionally removed (via the "X" button) from the Recent stitches palette. Added a "Clear All" button to remove all stitches from the Recent palette.
Change
In order to properly support Windows 7 taskbar pinning, the installer now requires that all running instances of EnvisioKnit must be closed during installation. The installer now detects and closes running programs, after prompting for your permission.
Bug Fixes
Fixed Open Office export issue where in some cases charts could disappear from the Open Office file after adding images.
In the previous version, when a new cable stitch was created to replace an existing cable already in the palette, the symbol style of new stitch was not updated. This has been fixed.
In the previous version, the stitch "tooltip" bubble that displayed information about a stitch when you hovered over it in the palette flickered on and off when you hovered over the delete button (the "X"). This has been fixed.
May 8, 2012
EnvisioKnit Reviewed by Knitcircus
The folks at Knitcircus have reviewed EnvisioKnit Design Studio on their podcast! If you'd like to hear it, head over to their website and check out episode #12 (the review is at the end).
Knitcircus is a fantastic resource for news and reviews about yarn, knitting books, events, and all things related to the knitting world, and we are so pleased that they mentioned us. Thank you Knitcircus!
May 8, 2012
Thanks to all of you who visited us at the 2012 Maryland Sheep and Wool Festival! We had a great time and hope you did too.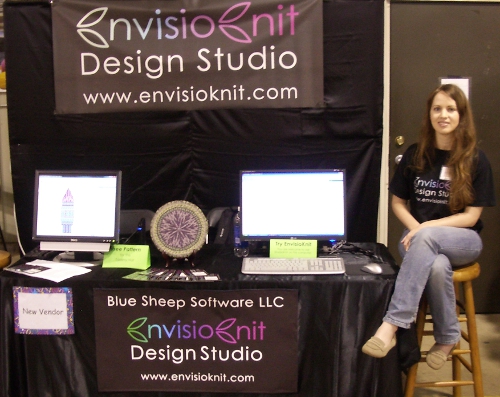 May 4, 2012
Blue Sheep Software is a vendor at the 2012 Maryland Sheep and Wool Festival! The festival is at the Howard County Fairgrounds in West Friendship, Maryland, May 5 & 6, 9am-6pm on Saturday and 9am-5pm on Sunday. We have a couple computers set up for demoing EnvisioKnit and are available to answer your questions, or just to chat. Our booth is in the Main Exhibition Hall, lot A18-A. If you are attending, you are most welcome to drop by and say hello, we would love to meet you!
April 12, 2012
Our website has a new look! We'd love to know what you think about it. Please feel free to tell us!
April 9, 2012
1.2.3 Release Notes
EnvisioKnit version 1.2.3 has been released. This is a bug-fix update to address a few issues found since the last release.
Release 1.2.3 Summary
Bug Fixes:
Fixed overflow error introduced in 1.2.1 that occured when the "Show chart" parameter was disabled.
Fixed issue where in certain conditions the "Delete Columns" tool did not allow columns that contained multi-cell stitches to be deleted even when those stitches were fully contained in the deleted columns.
Fixed issue in which the order of the charts in the pattern was sometimes not saved correctly.
Improved memory usage when using multiple large charts.
April 1, 2012
1.2.2 Release Notes
We have released EnvisioKnit version 1.2.2 as a quick patch to address a problem that those using Windows German language settings were having with the last release. If you are not using Windows with German language and number formats, this issue did not affect you. We have added testing with other language settings to our pre-release test procedure to avoid this sort of problem in the future.
ATTN Windows 7 users who are upgrading from 1.2.0: if you have "pinned" version 1.2.0 of EnvisioKnit to your taskbar, remember to unpin it and pin the new version. The new version will be on your desktop. Those who have already upgraded to 1.2.1 can ignore this, as 1.2.2 should replace your 1.2.1 pin automatically.
Release 1.2.2 Summary
Bug Fix:
Index line settings have been fixed with consideration for German decimal formats ("," instead of "."). This bug prevented files from previous versions to load correctly when running EnvisioKnit with Windows German language and number format settings. Those files should now load correctly regardless of your Windows language settings.
March 31, 2012
EnvisioKnit Design Studio 1.2.1 has been released!
1.2.1 Release Notes
EnvisioKnit Design Studio 1.2.1 is primarily a bug-fix update to address some issues found with 1.2.0. We like to release bug fixes as soon as possible, but we were also able to include a couple enhancements that were ready for release.
Windows 7 Users: If you have "pinned" a previous version of EnvisioKnit to your taskbar, remember to unpin it and pin the new version. The new version will be on your desktop. (Note: we have addressed this issue in release 1.2.1, so for updates after this release, repinning will no longer be necessary)
Release 1.2.0 Summary
New Feature:
Thick, colored index lines for the chart grid. These are lines that can have a different color and thickness than the regular grid lines, and can be used to mark every nth row or column.
Changes:
Tooltips showing the abbreviation and instructions of a stitch will now appear when hovering over stitches in the stitch palette.
Install scheme has been changed so that for future updates after this one, Windows 7 users who have pinned the program to their taskbar will no longer have to unpin and repin it--the pin will automatically point to the latest version.
Bug Fixes:
Bobble saving/reloading bug fixed. Some designs using bobble stitches had issues after saving and reloading. These issues have been fixed, and older design files with the issue will be automatically corrected when loaded with EnvisioKnit 1.2.1.
Bobble instructions fixed. Bobble stitches generated by version 1.2.0 had incorrect instructions, i.e. ", Turn work, , turn, twice." This has been fixed, and bobble stitches with this problem will be automatically corrected when loaded with EnvisioKnit 1.2.1.
Ruler scrolling when drag-scrolling chart editor window has been fixed. In previous versions of EnvisioKnit, the chart rulers remained stationary if the chart editor window was scrolled by holding and dragging one of the tools to the edge of the window. This has been fixed, and the rulers now scroll along with the window.
Fixed offset when copying and pasting border text. In 1.2.0 the border text did not float directly under the cursor while being pasted.
Fixed RGB entry in the color selector, so that the value can be blank while it is being edited.
March 13, 2012
We now have a print-friendly PDF version of the User's Manual available. You can find a link to download it at the top of the online manual. The PDF version will be updated each time the online manual is revised, so you should always be able to download the latest version.
February 22, 2012
EnvisioKnit 1.2.0 has been released! We've added several new features and are currently working on updates to the online manual to include them.
Windows 7 Users:If you have "pinned" an older version of EnvisioKnit to your taskbar, please remember to unpin it and repin the new version. The new version will be on your desktop after you install.
Release 1.2.0 Summary
New Features:
Chart, yarn and stitch import. Now you can reuse yarns, charts, and stitches from existing designs by importing them into your current design. You can also use this capability to build libraries of patterns to use in future designs.
Yarn conversion with import. When you import an existing chart into your current project, you can import it with its original yarns, or you can convert chart to use the yarns already in your project. For example, if you are working on a fair-isle project with green and yellow yarns, you can import a blue and white fair isle motif and convert it to use your green and yellow yarns instead.
Visible no-stitch. In the previous versions, there was only an invisible no-stitch, which is the same color as the chart background color (default white). We have added another type of no-stitch with a color that you can set (default gray). Now you can use the invisible no-stitch along the edge of your charts, and the visible no-stitch inside the stitch pattern.
Filled shape symbols. We've added several new solid-shape symbols to the stitch editor. The new symbols include solid rectangles, triangles, curves and stars.
Fixed aspect ratio stitch symbols. By default, stitch symbols stretch to fit the grid cells. You can now disable this in the symbol editor, which will allow you to have perfectly square symbols even if your chart gauge is not square.
Cable style settings. We've added Cable Style Settings to the Settings menu. Now you can change the symbol style of all your cable stitches at once. Choose from curved, straight, or crossing lines. This option is also available in the default settings menu, which will let you set the style of all the cable stitches your default stitch palette.
Order the legend by palette order. The legend options in the chart preview now include an option to order the yarns and stitches in the legend by their order in the palettes or by their appearance in the chart. You can change the order of yarns and stitches in the palettes by dragging and dropping them.
Keyboard shortcuts in pattern editor. The CTRL-C, CTRL-V, CTRL-X keyboard shortcuts now work in the pattern editor text boxes (title, designer, summary, copyright).
Default file type is remembered. When opening a new file, your choice of file type is remembered while the program is open.
The default chart background color can now be set via the default settings.
KVC files can be imported. Most stitches are supported, but custom stitches and reverse cables will be imported as blank custom stitches. Borders will not be imported.
Changes:
If the chart gauge is set in the New Chart window, the value is remembered when the next chart is created.
Yarns used only on no-stitch cells can now be deleted. Since the yarns are used on no-stitch cells, they are not visible to the user and are automatically swapped to a different yarn.
Fill on no-stitches is now more intuitive. The entire no-stitch area is filled and underlying yarns associated with the no-stitch cells are ignored.
Legend ignores yarns used only on no-stitch cells. These would be invisible to the user.
Stitches with the same abbreviation and instructions will appear only once in the stitch glossary, since they are effectively identical.
Exporting to Word format (.docx) checks for the .NET Framework 3.5 (required just for this feature). If it is not installed, the user will be given the option to go to Microsoft's site where they can download it.
Ruler numbers are now a more visible dark blue color.
When design is saved showing the pattern editor, it will load showing the pattern editor (rather than the chart editor).
If the RS and WS abbreviations for a stitch are the same (i.e. "pb"), the legend will not specify RS and WS separately (i.e. "pb" instead of "RS: pb; WS: pb")
The yarn selected by default in the yarn palette will be the first one.
Bugs fixed:
Fixed program and window layouts to appear and work correctly in 125% display mode.
Charts in DOCX and ODT formats have been sized down to fit the chart boundary, rather than fill the page. Also prevented DOCX charts from being cropped by 1 pixel.
Rulers in units mode are now updated correctly when the chart gauge is changed.
"Show chart" option in the chart preview is now saved correctly.
Allow the Charts menu drop-down to scroll if it is longer than the height of the window. Previously, it could not be displayed if it was too long.
Fixed zoom-to-fit. The chart is now correctly zoomed to fit without scrolling the window.
Zoom centering issues have been fixed.
Fixed spaces between cells that were sometimes visible when the grid was hidden.
Fixed offset when dragging or copying and pasting border text while the chart editor is scrolled.
Fixed right-justification of numbers ending with 1's.
Fixed PDF rendering of border rectangles - all corners are now mitered correctly.
Fixed yarn and stitch legend bugs that occured when resizing or cropping the chart.
Prevented blank border text objects from being created, which would prevent a border from being deleted.
Fixed chart scrolling to include the last pixels on the bottom and right edges.
Fixed drag-and-drop on palettes when the palette is scrolled.
Fixed issue in which every-other-row option is disabled when preview is shown.
Multiple file export window fixed. The file export window can now scroll to make space for more than 4 pages