EnvisioKnit User's Manual
Download a print-friendly version (PDF).
Table of Contents
The Chart Editor
Stitches
Settings
Tools
Page Settings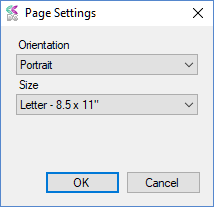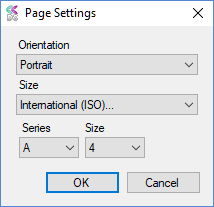 EnvisioKnit lays out patterns and charts according to its Page Settings. By default, the page settings are set to 8.5x11" (portrait) pages. To change the page settings, go to Settings->Page Settings... in the main menu. A window will appear where you can set the page size and orientation.
The orientation can be set to either Portrait or Landscape and the size options are Letter (8.5 x 11"), Legal (8.5 x 14"), Ledger (8.5 x 17") or International ISO. If International ISO is selected, additional options will appear to select the ISO 216 Series and Size. Supported ISO 216 page sizes are A3, A4, A5, B3, B4 and B5.
Default page settings can be set on the Pattern tab of the Default Settings.