EnvisioKnit User's Manual
Download a print-friendly version (PDF).
Table of Contents
The Chart Editor
Stitches
Settings
Tools
Font Settings
Clicking "Fonts..." in the Settings menu will bring up the Pattern Fonts window, where you can select the style, size and color of the fonts used in your pattern.
Selecting Fonts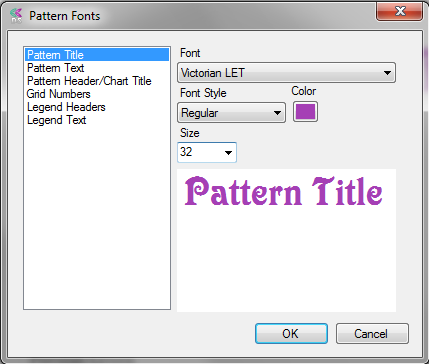 Select the type of text that you want to customize from the list on the left side of the window. The options include the pattern title, regular text, chart titles and other section headers in your pattern, the numbers for your chart grid, and the chart legend headers and regular legend text.
Now select the font you want to use from the drop-down list under "Font". You can also specify a font style such as bold or italic from the Font Style drop-down, and you can click the "Color" button to select a font color. The preview window on the bottom will show how your font will look as you change your selections.
You can also set your desired font size for Pattern Title, Pattern Text and Pattern Header/Chart Title. The Grid Number and Legend text types are sized automatically.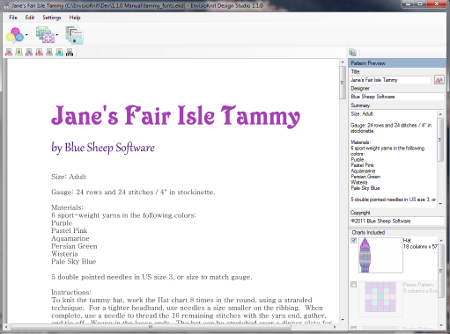 When you are satisfied with your selections, click OK. Your pattern and chart previews will be automatically updated to reflect the new settings.