EnvisioKnit User's Manual
Download a print-friendly version (PDF).
Table of Contents
The Chart Editor
Stitches
Settings
Tools
Importing Charts, Yarns and Stitches
The Import Tool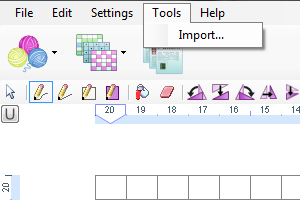 EnvisioKnit has an Import tool that allows you to bring charts, yarn, and stitches created in other design files into your current design. This allows you to use your existing design files as libraries to build on for future designs.
You can find the Import tool under "Tools" in the main menu.
Select the Design File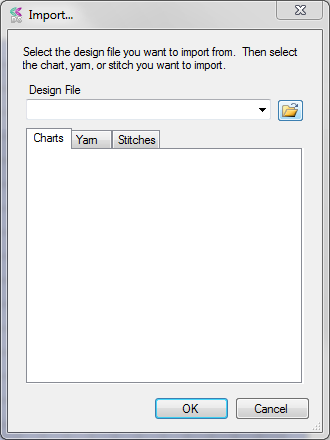 To use the import tool, first select the design file you want to import from. Once you've opened a design, it will stay listed in the "Design File" drop down for easier access in the future.
Select and Import a Chart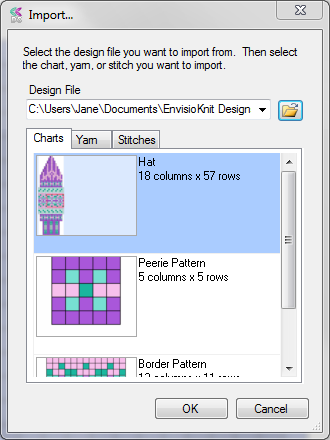 Now that you've loaded a design file, you can choose which of its charts, yarns, or stitches you would like to import. The charts, yarns and stitches contained in the design file are listed in the tabs below. To import a chart, select a chart from the "Charts" tab and click OK.
Importing a Yarn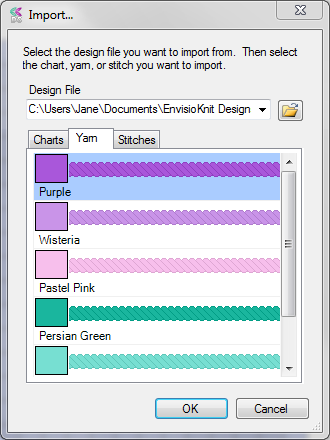 To import a yarn, select the yarn you want from the "Yarns" tab and click OK. The selected yarn will be added to your current design's yarn palette.
Importing a Stitch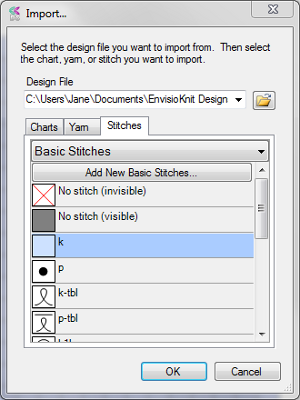 To import a stitch, select the stitch you want from the "Stitches" tab and click OK. The selected stitch will be added to your current stitch palette. If the stitch is already in your palette, you will be given the option to replace the existing stitch with the stitch you are importing.
Importing a Chart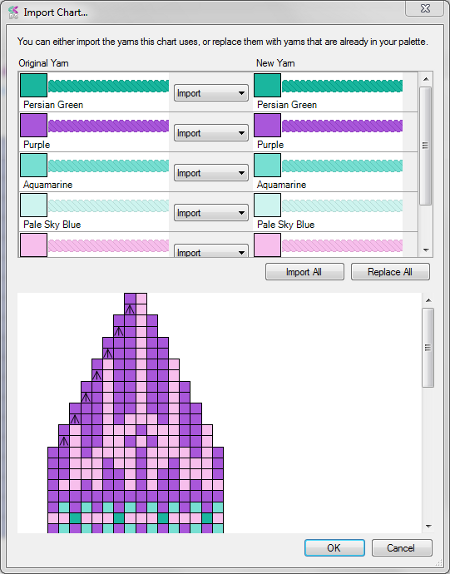 When you import a chart, EnvisioKnit will let you decide how to import the yarns that it uses.
After selecting the imported chart, the "Import Chart" window (shown on the right) will appear. At the top of this window, you will see a list of all the yarns used in the chart. The original yarn from the chart is shown on the left side, and the yarn it will import as is shown on the right. The button in the middle lets you select whether you want to import or replace the original yarn with one from your design. At the bottom of the window, you will find a preview of the chart as it will appear when it is imported.
By default, each yarn will be imported, resulting in the chart remaining in its original color scheme. Each yarn will be added to your current design's yarn palette.
Replacing Yarns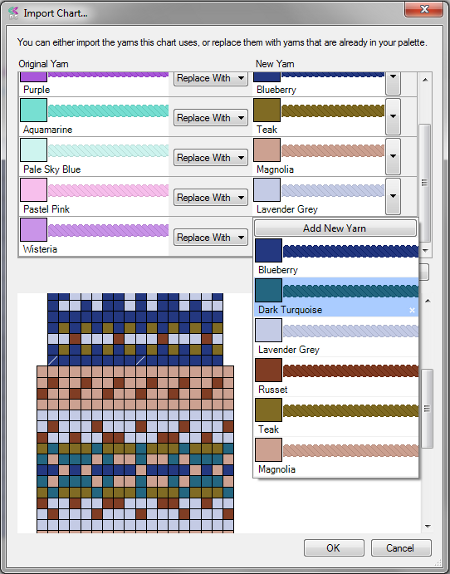 If you use the "Replace With" option, the yarn on the right will be replaced with a drop down in which you can select a yarn from your current palette. The preview window at the bottom will be updated to reflect your selection.
The Imported Chart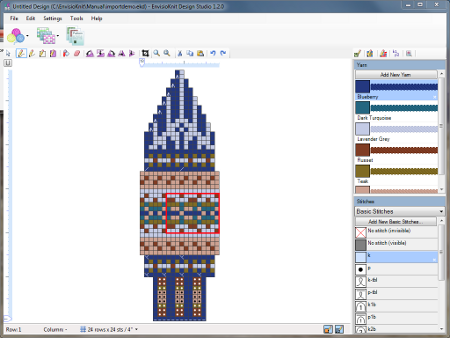 Once you have finished with the Import Chart window, click OK, and the chart will be imported into your current design using the yarns you selected.