EnvisioKnit User's Manual
Download a print-friendly version (PDF).
Table of Contents
The Chart Editor
Stitches
Settings
Tools
EnvisioKnit Preferences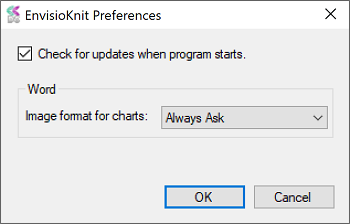 EnvisioKnit preferences are settings that affect how the program works.
Checking for Updates
By default, EnvisioKnit checks for updates when it starts up. You can disable this behavior by unchecking the Check for updates when program starts box.
Word Image Format for Charts
EnvisioKnit can export Word documents with either PNG (raster) charts or SVG (vector) charts. By default, the program will ask you which one to use when you export a Word document. If you set a preference for the Image format for charts setting, the program will automatically export using the format you selected instead.